Construction Services At Montante Construction, we deliver on our promises.
Montante Construction offers a variety of services for our clients that are tailored to their needs and specifications. From general contracting, build-to-suit, design builds, and everything in between, Montante Construction has the right team to complete your project above expectations.
Get in Touch
Construction Management
Our Construction Management services allow Montante Construction to play the role of head contractor for your project and consult in the beginning stages. We lead the way and get the right team involved in the pre-development process, and see the project through to completion. Our team manages a transparent process, including design, budgeting, bidding, and more. Montante Construction typically does Construction Management work "at risk," meaning we hold subcontractor contracts, making the process as seamless for you as possible. Progress tracking and reporting combined with proactive communication mean you'll always be informed every step of the way.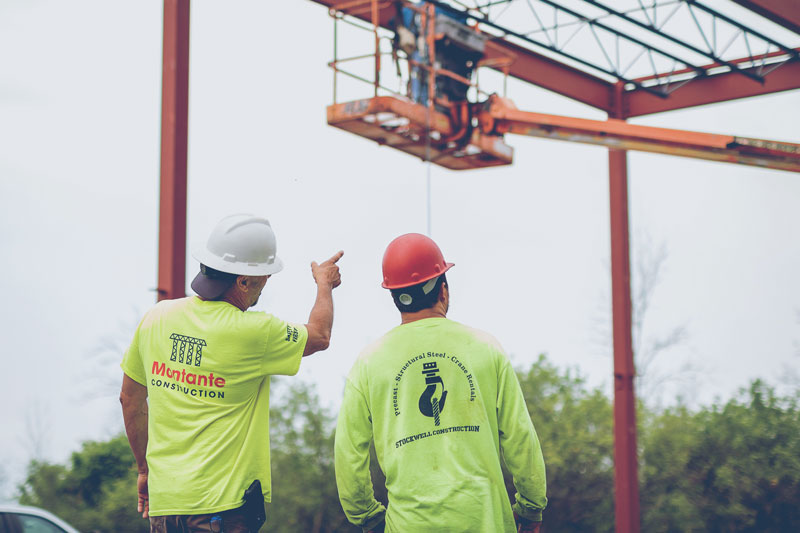 Construction Manager At Risk
We prefer to be a Construction Manager At Risk, which means we hire and manage all subcontractors.
Realistic Budgets & Timelines
We take the time to suggest budget improvements and anticipate challenges to develop a tenacious plan of action.
Progress Tracking & Reporting
We'll provide you with an up-to-date report of progress made in each key area of your project.
Pre-Development Consulting
Our expert team will help you with the early stages of your project, including design and bidding.
General Contracting
Montante Construction does all the hard work on and off the field. When we play the role of General Contractor, we are responsible for the day-to-day oversight of a site, managing vendors and trades, and handling the communication of information to all involved parties throughout the project timeline. We take care of coordination, including securing the proper permits and project scheduling. As the General Contractor, our role is to come in when it's time for construction and see the project to the finish line. We contract and oversee any and all subcontractors, taking full control of the construction process and delivering according to your design specs.
Contractors On-Site
We have our leaders in the field to ensure on-site safety and accountability.
Subcontractor Management
We hire and oversee any subcontractors needed in addition to our own expert team members.
Built to Spec
We'll work with your architect and/or designer to ensure your project is built exactly to spec.
Thorough Communication
We'll call, email or schedule meetings with stakeholders that satisfy all your needs.
Design-Build
Our Design-Build experts have the skills and experience to take your ideas and make them a reality. Design-Build services allow us to manage both aspects of a project from the beginning. We have in-house designers and CAD software that can help bring your vision to life with detailed floor plans and renderings. We'll walk with you step-by-step working on the layout, colors, materials, and anything else you may need or want. Once we've nailed down a design you're happy with, we will see that custom design through to the end of the build with our skilled team and on-site management.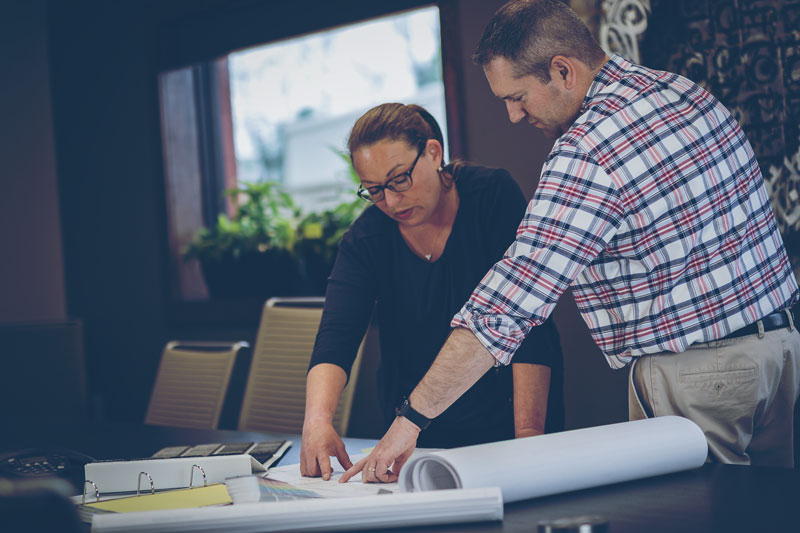 In-House Expertise
We have designers on staff that can help bring your vision to life.
CAD Software
Montante Construction can deliver you detailed floor plans and renderings of your perfect project.
Meticulous Planning
Our attention to detail ensures we're prepared for every project we're awarded.
Precise Project Approach
You get a proposal that's a detailed, realistic picture of how Montante Construction can complete your project.
Build to Suit
You have your vision, and now you need someone to execute it. We're here to lead you.
Whether it's a new building or a renovation, we can take your plans and tailor them exactly to your needs and specifications with future growth options in mind. Build to Suit development is a dynamic undertaking, but one that can solve a wide variety of space problems for a commercial tenant. Ultimately, this approach helps to maximize space, maximize efficiency, and reduce long-term costs.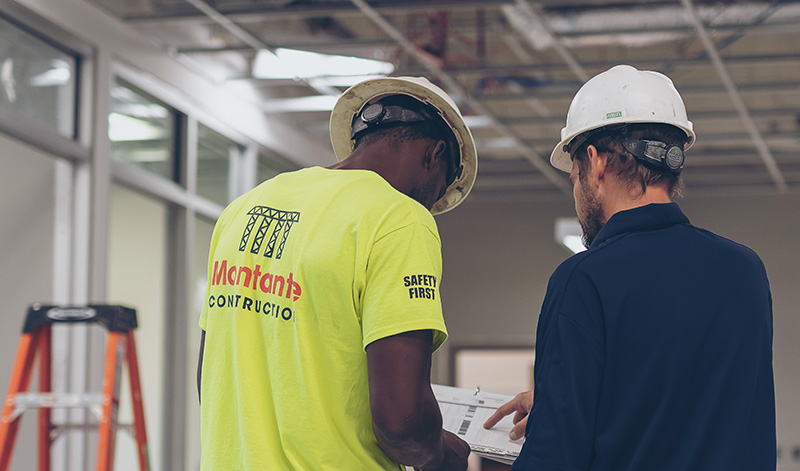 Adaptability
We adapt to what you want to create uniform designs that match up with other commercial properties.
Tailored to Your Needs
Constructed to your particular specifications to allow your tenants to conduct their business as efficiently as possible.
Dynamic Development
We build your projects with future growth and success options in mind.
Custom Solutions
Montante Construction solves a wide variety of space problems for a commercial tenant, helping to maximize space, efficiency, and reduce long-term costs.
Pre-construction Planning
This is where our expertise and "value engineering" take the lead. Before we begin work on a project, we go above and beyond to understand the scope, your budget, your needs, expectations and figure out ways to save you money while delivering the best project we can build. We'll get the scheduled timeline drafted up for you, while we find the best contractors in value and skill. We take the time to work through options with you, especially to save on budget and make smart decisions. Our experience in this aspect of construction is unmatched - we make sure your project is set up for success.
Value Engineering
We take the time to understand the scope, your budget, your needs, expectations and figure out ways to save you money.
Realistic Expectations
We have integrated touch points throughout your projects to ensure we're all on the same page.
Meticulous Planning
We do detailed drawing and site reviews before suggesting timelines and costs.
Budget Review
Montante Construction will walk through your budget so you understand where you can use more cost-effective materials.
Development Approvals
Because of the relationship with Montante Group, Montante Construction is better equipped to manage a broad spectrum of construction project needs. Supported by an in-house team of experts, we understand how to quickly work through design, zoning, permitting, utility, infrastructure and road improvement requirements to fast-track exceptionally complex builds. Montante Construction offers services many of our competitors need to outsource.
The Right Relationships
Our affiliation with the Montante Group allows us to utilize our industry connections in many key areas of construction.
Team Assembly
We gather the right team together to complete every project to perfection.
In-House Experts
We understand how to quickly work through design, zoning, permitting, utility, infrastructure and road improvement requirements.
Fast-Tracked Results
​​We have the financial capability, flexibility, in-house resources and third-party networks to quickly develop and execute complex projects.
Pre-Engineered Metal Buildings
Montante Construction acquired Tedesco Construction Services, a 50-year old multi-generational company, which specializes in pre-engineered building systems. Tedesco provides the vision to effectively integrate pre-engineered metal building systems and conventional construction methods to deliver the highest quality commercial and industrial building projects.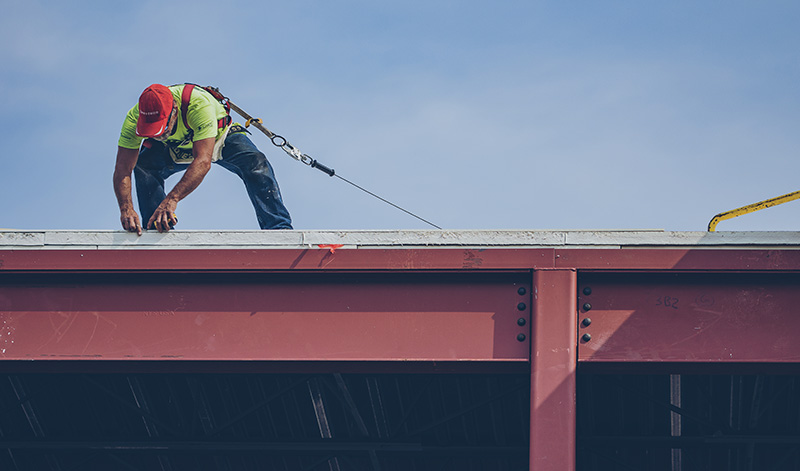 Value Engineering
Pre-engineered buildings can save you up to 30% in overall construction costs for certain building types compared to conventional construction methods.
Fast-Tracked Results
Standardization allows for a more efficient design and code review process, meaning ​​construction time cycles can be reduced to 1/3 the time.
Meticulous Planning
Advanced computer design provides for enhanced project control and more accurate project cost estimating.
Adaptability
Pre-engineered metal building systems can be incorporated into virtually any low rise construction project to provide efficiencies.
Talk to us about your project
Montante Construction would love to lead the way in your next build. Get in touch with us here and we'll get started:
Call us: (716) 876-8899
Email us: info@montante.com